CLICK on Links Below for Other Pages




Wesnofske Long Island Farm Heritage

Recognitions

Sister Regina Bernadette


GENERATIONS OF DESCENDANTS OF
MARTIN & ANNA
(Last updated: February 25, 2020)


Wesnofske? What's in a name?




GALLERIES OF
MARTIN & ANNA'S
CHILDREN
John & Johanna Wesnofske

Their children: Joseph, Elizabeth, Mary,
Alvena, Eleanor, Leonard, Remi,
Louis, Vincent, Celestine (Sally)
(Last Updated: July 28, 2009)


Martin II & Mary Wesnofske

Their children: Theresa, George, Alice, Edwina,
Harold (Jerome), Theodore, Martin III, Anna,
Regina (Sister Regina Bernadette,
Eugene, Dorothy, Beatrice, Evelyn, Albert
(Last updated Aug. 3, 2009)


John & Mary Petchock

Their children: William, Henry, Anna, Edward
(Mounted July 30, 2009)



Frank & Frances Wesnofske

Their children: Mary, Margaret, Frank II, Martin,
John, Helen, Florence
(Last updated Aug. 3, 2009)



Joseph and Martha Wesnofske

Their children: Anna, Loretta (Laura), William
(Last updated Aug. 3, 2009)



Henry and Stella Wesnofske

Marie S., Henry O. Jr, Robert L., Gloria
(Last updated Aug. 4, 2009)



Theodore and Mary Wesnofske

Elizabeth
(no photos or materials available at this time)


Peter
(died as a youth)






Martin (1841-1914) and Anna Kujawska (1849-1932) Wesnofske immigrated to the United States in 1874.

They came from the village of Grutta, West Prussia, an area of Polish and German populations at that time incorporated under the rule of the Kaiser (Emporer) of the newly unified (1871) Germany. (In contrast, the remaining areas of Poland were ruled by the Czar of Russia and the Emporer of Austria-Hungary). Because of wars and other political events, the village today is incorporated into Poland as Gruta, Grudiądz District (powiat), Kujawsko-Pomorskie Province (voivodeship). Even as Poles, they were German speaking in a predominantly German controlled area.

An family oral tradition has Martin serving as a 'cavalryman'. This is an ambiguous reference and as yet unverified by any records. The nearby small city of Grudziaz (Ger: Graudenz contained a cavalry unit; males were obligated for service in German military orders). Prior to the couples immigration, they were employed on an agricultural estate known by the name 'Frankenhain'.

Regional economic developments in agriculture and political events related to enhancing German authority in the new German Empire helped inspire the Martin's move to immigrate with his wife Anna and their first three children Johan (John), Joseph and Frantz (Frank). They departed soon after the death of Anna's mother in 1874.

They departed from the port of Hamburg on May 22, 1874 on a ship called the "Cumberland", a small paddlewheel packet steamer. It was owned by the Leith, Hull and Hamburg Line commanded by Captain Parker. Built in 1866, the Cumberland has the unfortumate history of sinking in the Elbe river that serves the port of Hamburg in 1906 in a collision with another ship.

The Cumberland arrived in Leith (the port district of Edinburgh Scotland) several days later. From there, this family of five boarded a well established train route serving trans-migrants of northern Europe arriving in Edinburgh to go to America. That train took them to the port of Glasgow and the piers of the Clyde River to board the Anchor Line steam packet

SS India

.

At this time, prior to the establishment of Ellis Island, immigrants to the port of New York arrived at Castle Garden in lower Manhattan and in a period when record keeping was often sloppy.

They arrived at Castle Garden on June 9, 1874 aboard the

India.

The family had traveled in "steerage" rather than in a cabin. This would suggest a humble economic status. See Immigration and Naturalization page.

The subsequent history of the Wesnofske family generations is interwoven with Long Island history and its economic and social change over one hundred forty plus years.

The family first settled into Fosters' Meadows on the border of today's Queens and Nassau Counties. They followed Anna's sister Mary Kujawska and her husband August Makofske, both of the same farming estte of 'Frankenhain', who had immigrated one year earlier after their marriage. After life in Fosters' Meadows, (1874-1892) (today's Elmont, NY in the Town of Hempstead), the family eventually moved two miles north into the farming areas of neighboring Hinsdale, Town of Flushing in Queens County before its incorporation into New York City and its division from the area formed as Nassau County in 1899. Their Little Neck Rd. farm was on the western most edge of the Hempstead plains, a large area, little disturbed, of flat grassy lands with few trees, and that stretched eastward to and over the Suffolk County border. The Hempstead plains were formed and leveled by the outwash flowing to the Atlantic from ancient glaciers. The plains sit south of today's Route 25, Jericho Turnpike.

Click here for a Map and Perspective on the 'Hinsdale' farm.

In 1892, they purchased for $16,500 from Ernest Holtz a 97 acre farm in Hinsdale at today's location on Little Neck Parkway and between Union Turnpike and Hillside Avenue. The same year, according to Queens County Surrogate Court records, Martin and his oldest son John became naturalized citizens of the United States, as did sons Joseph and Frank at other times and place.

On the Little Neck farm, Martin and Anna raised seven sons and one daughter in an agricultural economy of farms and nurseries next to the burgeoning New York City immigrant population and markets.

The residential village location nearby is known now as Floral Park in Nassau County, a change reflecting the seed, flower and nursery agriculture of the locale and the creativity of the residential real estate developers to name things to appeal to urban dwellers seeking a better life.

The succeeding generations of family moved eastward on Long Island traveling with the winds of change.

Oldest son John established his farm in Hicksville in 1900 and raised five daughters and five sons with his wife Johanna Manelski. Their descendants operated farms in Hicksville, Melville, Commack, and eventually further east on the Long Island's South Fork, in Sagaponack and Bridgehampton. There, a current Wesnofske family continues a farming legacy. With his wife Johanna, John eventually dedicated a window in the newly renovated St. Ignatius Church in Hicksville.

Martin and Anna's second son Joseph moved by 1900 to a farm with wife Martha Coskie and his family in the Town of Hempstead. He owned farmland on the east side of Uniondale Avenue south of the Front Street intersection along the current 300 & 400 blocks. Joseph had three children.

He was joined in farming there for a time by his younger brother Frank with wife Frances (Kaczynski) and family for a period of time until the land was sold in 1920 and Joseph retired to Leverich Street in the village of Hempstead proper. Frank, the third child and the last born in Poland, eventually moved to the Melville area where he and his children operated a long time farming oepration.

Fourth son Martin II, born in the United States, and his wife Mary (Jankowski) over their lifetimes raised 14 children and established themselves on several farms in Nassau and Suffolk County communities: Hicksville, Syosset, Huntington, East Setauket and Greenlawn. In turn, some of his grand-children and great-grandchildren operate a farm and farm stand today in Cutchogue on Long Island's North Fork.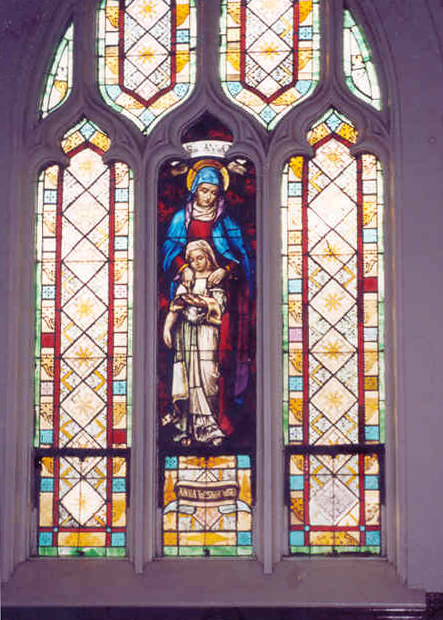 Anna 'Wisniewski' (Wesnofske)
Window at St. Hedwig's R.C. Church
Floral Park, NY
(2000 Photo by great grandson Terence Ducey)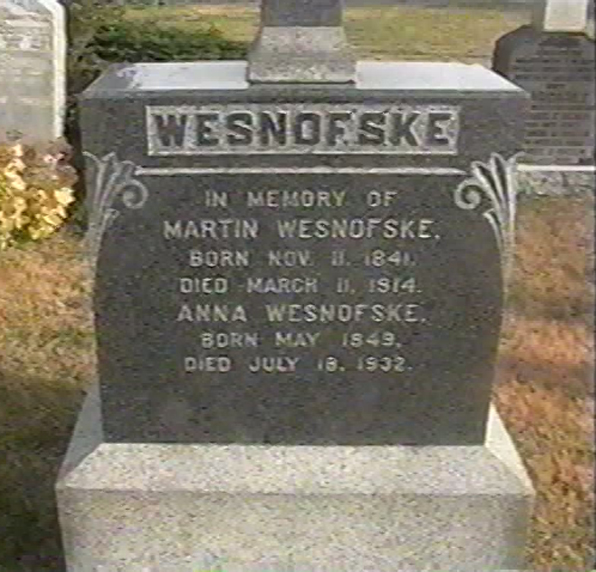 Above: St. Boniface Cemetery, Elmont, NY
(2009 Photo by grandson Albert Wesnofske)
Only daughter Mary married the boy next door to her parents, John Petchock, a young wheelwright for a wagon maker in Floral Park. Marriage to spouses living within close distances reflected a common practice imposed by the lack of easy transportation. Mary died in 1913 so early at the age of 25 of unknown causes at present. The surviving family resided on Irving Avenue in Floral Park at least until 1914.

Fifth son Theodore married Mary Zulkofske in 1906 but he died in February 1910 at the age of thirty and left a young widow and one child Elizabeth. Exactly one year later, February 25, 1911, Theodore's widow Mary then remarried to youngest brother Henry Wesnofske. Mary died in March 1912 soon after marriage to Henry of tuberculosis in a New York State sanitorium in upstate New York where she had gone for treatment. The child Elizabeth was assigned to live with her grandparents the Zulkofskes'.

Son Peter, born in 1886, never reached adulthood, dying before 1900.

Youngest son Henry, 19 years younger than his oldest brother, established himself first in farming in Jericho, then Huntington, and then followed other pursuits in the 1920's in the Westbury and Garden City area. After becoming a widower from his marriage to his brother Theodore's widow Mary, he quickly married again in 1914 to a girl next door, Estelle Pryztula, and had four children with her.

As agriculture declined in the face of industrial, commercial and residential development in an eastward direction on Long Island over the last 146 years, Wesnofske descendants and relatives turned to other pursuits to adapt. The Great Depression (1930's) and World War II (1940's) helped changed the course of their lives as well as Long Island's post war industrialization and defense business (1950's). With the mechanization of many aspects of productive activity (inlcuding agriculture) and the development of powerful defense manufacturing on Long Island (Grumman, Republic, Fairchild) jobs of manual and intellectual skill rather than manual labor became the backbone of the Long Island economy.

First was the move from farm to similar agriculture and nursery occupations for other employers. Soon these jobs of manual labor and housekeeping were replaced by acquiring skills for trades, industry and small business. Education was gained and descendants entered commerce, trade, the arts and professions in large numbers. Today, those descendants still reside in overwhelming large numbers in Long Island communities, having for the most part successfully navigated through the great winds of change.

Martin and Anna originally belonged to St. Boniface Church in Fosters' Meadows (today's Elmont). It was a German speaking church where eventually a parochial school (1887) was established as well as a cemetery in which Martin and Anna and some descendants are buried. Their younger children may have attended the closer parochial school rather than the public school about three quarters mile distant.

Later, they belonged to St. Hedwig's Church in Floral Park where masses today are now said in English and Polish and where a window is dedicated to Anna in the Church.